Description



Proclamation Safari Park VBS 2023
SERIES AIM
The student will study the life of Christ and learn that Jesus is his rescuer.
Journey with us to Proclamation Safari Park where we will discover that Jesus is our rescuer. Join Park Ranger Rachel and Park Ranger Roscoe as they lead the proclamation partners to learn more about the animals at Proclamation Safari Park. While learning how the proclamation partners can help the animals, they will learn about Jesus and their need for Him to rescue them. The adventure awaits your church in Summer 2023.






SETTING
The VBS setting is a drive-through safari park. Hop in the park vehicle for a tour of the rescued animals.
PARTICIPANTS
Volunteers: Park Rangers
Students: Proclamation Partners

PLACES
Assembly: Gathering Gateway
Crafts: Crafts Campground
Games: Play Pasture

Missions: Missions Meadow
Music: Sing-a-long Savanna
Snacks: Watering Hole Wilderness
WHY YOUR CHURCH SHOULD HOST A VBS
Vacation Bible School can help your church to fulfill the Great Commission. Sharing the gospel message with children and families in your church and community has never been more fun or effective than with Vacation Bible School. VBS has the ability to provide:
a place of fellowship and growth for disciples of all ages in a submersive learning experience.

a more casual learning atmosphere for reaching unchurched families in your community in which they can hear and learn Bible truths.

a way for church families to experience the Bible together.
And much more!
Jesus is My Rescuer has great possibilities of what God can do in your church and community reaching out to the lost by getting the message out there for VBS. We look forward to hearing from you and your thoughts about it, too! Share your experiences using Proclamation Safari Park: Jesus is My Rescuer with us by connecting with us on social media.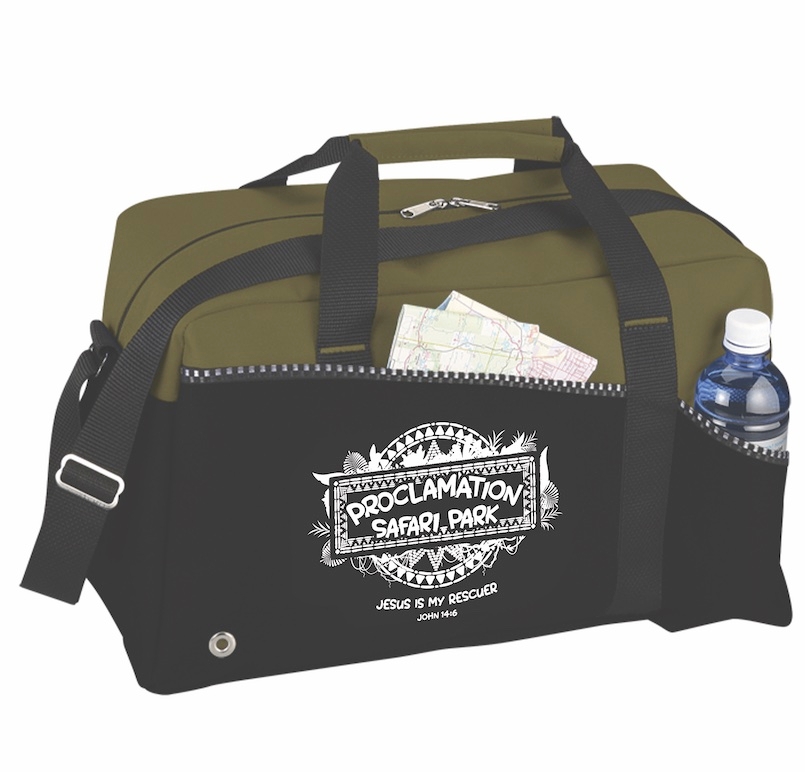 Proclamation Safari Park
VBS 2023 Sample Kit
Director's Plan Book
Resource CD
Music CD
Songbook
Craft Book
Game Book
Skit Book
Beginner Teacher
Beginner Activity Pages
Beginner Visuals
Primary Teacher
Primary Activity Pages
Primary Visuals
Junior Teacher
Junior Activity Pages
Junior Visuals
Young Teen Teacher
Young Teen Student
Young Teen Visuals
Teen Teacher
Teen Student
Teen Visuals
Adult Lessons
Salvation Tract
Live-It! Cards
Coloring Book
Daily Journal
Daily Theme Posters
Bible Teaching Posters
Theme Stickers
Name Tag Holder
Name Tag
Lanyard
Bookmark
Photo Frame
Silicone Bracelet
Tote Bag
Drawstring Backpack
Bandanna
Maze Game
Water Bottle
Publicity Flyer
Publicity Poster
Curriculum Catalog
Preschool / Kindergarten Teacher
Preschool Activity Pages
Kindergarten Activity Pages
Preschool / Kindergarten Visuals
Attendance Chart and Stickers
Memory Verse Reminders with Keychain
New Testament Bible (King James Version)
Proclamation Safari Park DVD
Station Signs
Proclamation Safari Park Pencil
Postcard
Certificate of Achievement
Certificate of Appreciation
Adult T-shirt (X-Large)
Bulletin Cover
Doorknob Hanger
Bogard Press Shipping & Delivery Times: All Bogard Press VBS and Curriculum products ship directly from Bogard Press in Texas and will be shipped separately from all non-Bogard Press items in your order. ***It may take as long as 2 Weeks for orders to be shipped by Bogard Press depending on order volume at the time and unfortunately Rush Shipping options are not available. The KJV Store has no control over the speed of shipments on Curriculum orders and any complaints regarding delays will be directed to Bogard Press Customer Service. Please order your curriculum as soon as possible on the switchover / availability dates listed on the Curriculum Schedule above (***typically 1 Month before the Quarter Begins) to guarantee that your items arrive before the quarter begins.

Shipping on Orders Under $50.00:
Due to rising freight charges, all Bogard Press orders with a sub-total of less than $50.00 will be shipped FedEx Smart Post with tracking. Delivery on these shipments will take 1 to 2 weeks. Orders over $50.00 will be shipped UPS Ground.

Return Policy: Cutoff Date For All VBS Returns is 9/1. No Returns Will Be Accepted After This Date with No Exceptions from Bogard Press.
- You must call for a RMA Number.
- There will be a 15% restocking fee charged by Bogard Press.