The Best Bible Verses To Read In Challenging Times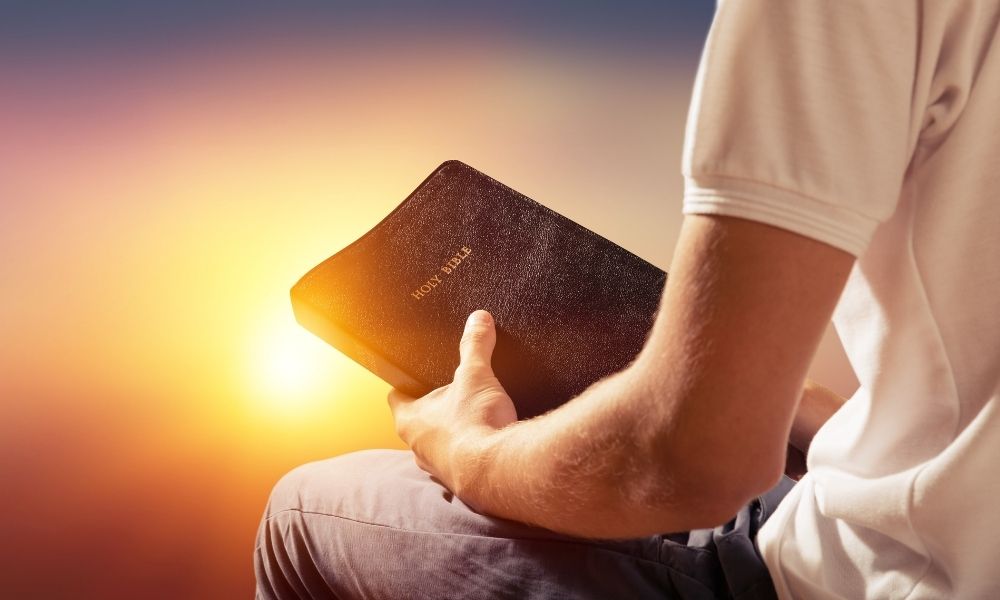 There can be no doubt that we are living in a hostile world. As the pandemic has raged over the globe, we haven't just battled the illness itself—we've also had to keep ourselves away from our loved ones when they need us most, our worlds have gotten uncomfortably small, and as the economy has struggled, many of us have felt that pain directly. Even as experts and officials insist "there's a light at the end of the tunnel," the light never seems to get any closer. We need all the inspiration we can get.
You know by now that this is a time unlike any we've ever lived through. While so many of our usual strategies for conquering adversity are off the table, there's still a place for the proven standard of personal inspiration—the King James Version of the Bible, whose prose has given meaning, purpose, and joy to its readers since its publication in 1611. In this guide to the best Bible verses to read in challenging times, we hope to help you conquer the adversity you're up against by giving you the inspiration you need.
Luke 12:25-27
"And which of you with taking thought can add to his stature one cubit? If ye then be not able to do that thing which is least, why take ye thought for the rest? Consider the lilies how they grow: they toil not, they spin not; and yet I say unto you, that Solomon in all his glory was not arrayed like one of these."
This was the "don't sweat the small stuff" of the New Testament. Luke, quoting Jesus' Sermon on the Mount, inveighed against materialism, drawing comparisons with the lilies of the field, which, as but beautiful flowers, are blithely unconcerned with the trials and tribulations of everyday life. By "taking thought," or worrying excessively about material possessions or worldly affairs, you won't experience any personal growth—not spiritually, and certainly not physically, as the old measure of the cubit would indicate. Instead, trust that God will bring beauty and happiness to your life, just as the lilies bloom each year after hard winters.
Philippians 4:11-13
"Not that I speak in respect of want: for I have learned, in whatsoever state I am, therewith to be content. I know both how to be abased, and I know how to abound: every where and in all things I am instructed both to be full and to be hungry, both to abound and to suffer need. I can do all things through Christ which strengtheneth me."
Philippians 4:13 is so well-known that simply denoting the book, chapter, and verse is often enough to get the point across. However, by including the two prior verses, we see that there may be more than meets the eye to this inspirational axiom. To get true guidance from these verses, don't take "through Christ, all things are possible" as a one-way ticket to worldly success. You'll find that the conductor won't punch that ticket. Rather, this verse underscores that believing in Christ will allow one to survive hardship and adversity, as Paul learned to do as the world around him abased him and continued to do as he enjoyed abundance. Success beyond one's wildest dreams simply by believing is not a guarantee—turn back to Ecclesiastes reminding us that the race is not necessarily to the swift—but the ability to persevere through hard times is, and that resiliency is far more important than any achievements on top of that.
Hebrews 12:1
"Wherefore seeing we also are compassed about with so great a cloud of witnesses, let us lay aside every weight, and the sin which doth so easily beset us, and let us run with patience the race that is set before us."
Starting a new religion isn't easy. The Letter to the Hebrews was a message to early Christians encouraging them to remain committed to their new faith, even while facing persecution from Romans and still-observant Jews alike. This book of the Bible is all about keeping the faith—chapter 11 refers to Old Testament figures such as Abraham, Noah, and Moses, all of whom maintained their faith in God even against significant challenges. It was this unwavering faith that guided Moses to lead his people from Egypt, the same faith that put trust in the Passover ritual and allowed the Israelites to cross the Red Sea. These luminaries of the Hebrew Bible are the "great cloud of witnesses" who watch over us today and silently encourage us to run the same race of faith that they ran, not only uniting a Judeo-Christian tradition but giving us a lesson we can apply to our daily lives.
2 Timothy 1:7
"For God hath not given us the spirit of fear; but of power, and of love, and of a sound mind."
Trust in God isn't about being passive. Paul the Apostle's imagination of Christianity was as a muscular force of self-control and determination as he encouraged Timothy to be a confident leader of his flock. By taking this verse to heart, you can reassure yourself of your gifts—force of will, your ability to love, and the brilliance and clarity of your own mind. Never forget to make the most of these gifts in your life by exercising your mind, showing love to the people dear to you, and being confident in yourself and your abilities.
More Verses
These are but a few of the inspirational words of wisdom that you'll find in the King James Version of the Bible. For more enlightening words about faith, trust, persistence, and conquering adversity, don't hesitate to read onward. You can find even more of the best Bible verses to read in challenging times by reading further in your new classic edition from the KJV Store. With traditional leather-bound volumes, large print KJV Bibles, and even children's editions of the 1611 masterpiece, you can find the guidance you've sought in the pages of this enduring landmark translation of God's word.