7 Different Types of Leather-Bound Bibles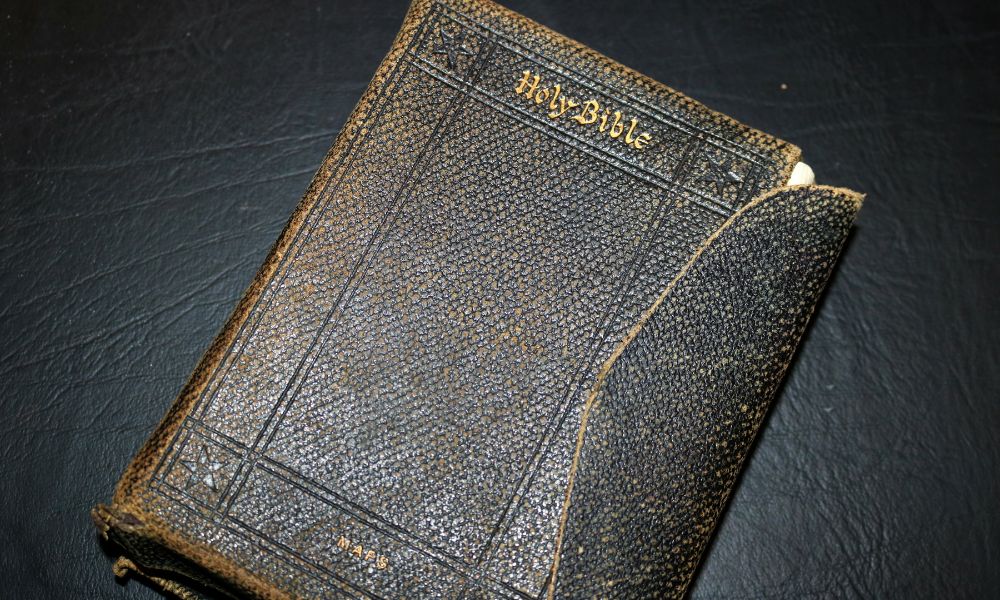 Leather-bound Bibles are beautiful, durable editions to any bookshelf. Whether you're looking for a Bible for personal or academic use, to gift someone, or for a special occasion, the KJV Store can help. We offer numerous leather-bound options so that you can find what you need for any reason or occasion. Keep reading to learn about seven different types of leather-bound Bibles we carry.
Classic Wide Margin Study Bible
Many people think that a Bible is a Bible and that other than the translation, there's not much difference between Bibles. That assumption is wrong. While one KJV Bible can look a lot like another on the outside, the inside of the Bible can look very different.
The classic wide margin study Bible is a good example of this. While we describe it as classic, this Bible offers extra notes from scholars to help you better understand Scripture. If you're reading the Bible for the first time, especially for academic reasons, then a study Bible is a great choice.
Large Print Edition
Anyone at any age should be able to open a book they're interested in and easily read it. This basic literary principle applies to secular and holy books alike, including the Bible. For people with eyesight troubles, though, being able to read isn't a guarantee. Large print editions can make reading easier.
If someone in your life is struggling with their eyesight and reading, then a large print leather-bound Bible may be a good gift for them. Large print is typically 4-6 points larger than average print, so they should be able to easily read this book. While the larger print often makes the book thicker, the weight difference is worth the ability to read the text comfortably.
Note Taker's Bible
Sometimes, no matter how interesting a lecture or sermon is, you may find yourself falling asleep. Theology classes and Sunday morning sermons are often interesting but depending on what we have going on at home and the atmosphere in the room, your mind may wander. Taking notes is a fantastic way to remain focused.
You can take notes on a device or in a notebook, but that means your notes are separate from the reading material. A note taker's Bible allows you to make notes in your Bible without crowding the printed text. This is a great gift for the avid Bible reader in your life, especially if they work in some type of ministry, and for theological students.
Red Letter Edition
If you ask a Christian what the point of the Bible is, they'll probably tell you about Jesus's teachings. Much of the Old Testament alludes to and directly predicts Jesus and his life, while the New Testament focuses on his life and the aftermath of his ministry. To respect Jesus's crucial role within the Bible and to make it easier to find his words, some publishers offer a red letter edition of the Bible. In this edition, every word that Jesus says is printed in red. All the other words appear in black.
Many older Christians and people who grew up attending church are familiar with the red letter edition of the Bible and enjoy using it. They find it easier to find quotes from Jesus's teachings since they can narrow their focus on the red letters. If you know someone specifically interested in learning more about Jesus and his ministry, then a red letter edition may be the best choice.
Pocket Bible
The Bible is one of the most popular books in the world, so it makes sense that many people want to carry it with them. Clergy, professors, and students probably carry the Bible with them the most since they take it to work and class outside of regular church gatherings. We offer a pocket edition to make it easier to carry the Bible. It's the entire Bible, with nothing missing—it's just condensed in size.
If you know a clergyperson, professor, or student who needs to easily carry a Bible with them, then a pocket Bible may be an excellent choice. Some pocket Bibles even come with the other features we've described above, like red letters or large print. Look through your options and find the best pocket Bible for your needs.
Family Chronicle Bible
If you want to pass something down from generation to generation, then a leather-bound Bible is the best choice. The Bible communicates faith and family records through generations, and the leather will keep it sturdy for years to come. To easily store the family records and accounts of faith, consider a leather-bound family chronicle Bible. This edition of the Bible is the same as any other KJV Bible, except it has extra pages in the front. These pages allow you and your family to record special events like weddings, baptisms, and births.
A family chronicle Bible makes a great gift for a family who's recently Christened, dedicated, or baptized a child or for any growing family. It's a thoughtful gift that shows your consideration for the current family and for the generations to come. If you want a place to safely keep family records, consider purchasing a family chronicle Bible for yourself as well.
Wedding Bible
Instead of just recording a wedding in a family chronicle Bible, you can give someone a wedding Bible. Like the other leather-bound KJV Bibles we've mentioned, this Bible has the same subject material as any other you'll find on the shelf. The difference is in the presentation. Wedding Bibles often come in white leather instead of the more traditional dark leathers, and some have rings embossed on the front cover.
Gifting a wedding Bible to a religious couple is a great way to honor their faith. Consider gifting them this Bible early in their engagement so that they can potentially read from it at their wedding and have the officiant sign the inside. This inclusion will make the wedding Bible even more special.
There are many different types of leather-bound Bibles on the market. Although we only mention seven, you can find other types of Bibles that will meet various reading and aesthetic needs. You can also find Bibles covered in different kinds of leather, such as goatskin and calfskin. Whatever you're looking for, the KJV Store has premium leather Bibles that you can keep, use, and gift to others for years to come.